Denver's Most Fuckable Rockstars
A New Weekly column by Ivyy Goldberg, with careful deliberation by the Donnybrook Board of Trustees
Ahhh Denver. The site of the National Headquarters of the Donnybrook Writing Academy just happens to be in a city that has a rich cultural and musical underground, teeming with talented lovely young people. And by talented lovely young people, I clearly mean fuckable musicians.
With so many, though, a girl or guy could get a little lost. Help us, Ivyy, you say? I'm one step ahead of you, kids….. every other week I'll be profiling the week's most fuckable rockstar, and maybe telling you where to find him or her.
This is Jim. He's in a band called cat-a-tac.
This is a copy of cat-a-tac's latest album, Past Lies and Former Lives.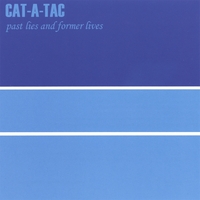 We like Jim. We think he would make a fine member of our tennis team, based simply on his elegant bone structure.
He's also quite fuckable. That's why he's…..
This week's pick: Jim from cat-a-tac.
You will take cans of whatever he hands you, and you will love it – Photo by Laurie Scavo.
Name: Jim
Band: cat-a-tac, guitarist and lead singer.
Status: In a relationship
Why he's this week's most Fuckable Rockstar:
Well, first, just LOOK at him, he's hot! And he's super nice, and his band's music is sexy. Also, he's whimsical; Cat-a-tac's music is shoegaze rock, but he's not above throwing a country song into his set every once in a while, just to freak out the kids with the sweepy emo bangs. The Academy holds whimsy in very high esteem.
Probable Lovemaking Style:
Intellectual (he went to law school!) and subtly passionate, with just the right amount of strength and the occasional light-hearted experimentation.
Where to find him: Cat-a-tac is playing the Hi-Dive November 30th with international superstar Patrick Porter and their label mates, Rabbit is a Sphere. Patrick Porter is a Denver native, but is normally WAY too good to play here. So don't miss it!
See you then, Jim! And don't forget those pink pants!