Documentaries: Two Sports, Four Filmmakers
It's laughable to think that you're as distinguished as Dr. Fritz Godard when it comes to navigating a film festival; so for the next five [week]days leading up to the 30th Starz Denver Film Festival, Fritz will be sharing his killed-for knowledge with thee. You may thank him in Armagnac Twisters and sexual favors; please hold your applause until the end.
************************************************************************
In the post-Michael Moore landscape, documentaries that merely inform might as well be sent to junior high schools to help incompetent teachers bore their students to sleep. Today's documentaries have to pop, they have to whiz, and most of all they have to entertain. The new rule for documentaries is knowledge is secondary; entertainment is king. Looking down the lineup of documentaries, there are a few gimmick-driven documentaries arriving at the Starz Denver International Film Festival, but most of selections could have been made before Morgan Spurlock was nominated for an Oscar. With forty-seven documentary features, every day of the festival could be filled with watching edited reality.
Developing a complete list of enticing documentaries proved to be too vast of an errand, and each ensuing attempt proved only slightly less intimidating. However, the lists of docs (the cool-kids street slang for documentary) kept getting smaller until the absolute essential films appeared.
At first this film seems like a glorified look at what the outside of a String Cheese Incident show would look like in Burma; a documentary examining a 1,500 year old sport where players try to keep a ball off the ground using only their feet. Hacky-sack typically gets boring as soon as the dog with the bandanna around its neck puts the slimy stamp on the ball.
Chinlone, the game which contains the aforementioned mystic ball, never loses the participant's, or audience's, interest. The game consumed twenty years of director Greg Hamilton's life while making this movie. The visual beauty he captures is matched by the American curiosity of a team sport void of competition. The film keeps the audience gripped to the screen for the brisk eighty-three minutes running time.
With two competing Roller Derby leagues in Denver, this city knows what roller derby is about. Watching women race and fight their way around a track will always be an en vogue activity, but this doc goes deeper. This film is the human-interest halftime show that nobody ever gets to see when attending a live roller derby bout. The emotion is like the girl's knees: raw. With each league having a scheduled bout during the film fest, this film might be a nice precursor to the real thing.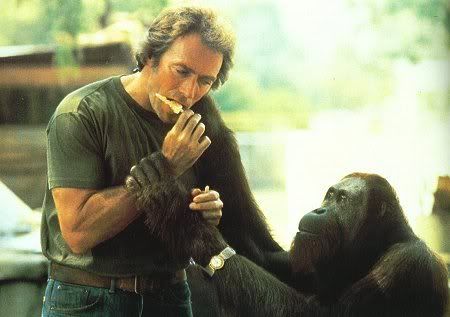 Clint Eastwood: A Life in Film
Every film festival should contain as many premiers as possible. DIFF has a long way to go before it can consider itself on par with Festival De Cannes. However, being the North American premiere of a documentary on one of the world's most known movie star gets the ball rolling. It may not be the world premier, but setting the trend for the Western Hemisphere isn't a bad place to start. Director and long time Eastwood comrade Michael Henry Wilson is able to squeeze a smile out of the man with a thousand glares. The film looks to be full of a lot of open and revealing Eastwood interviews. I'm crossing my fingers that film will mainly consist of behind-the-scenes footage from Every Which Way But Loose and Any Which Way You Can, or at least an interview with the orangutan Clyde.
One of the wonderful perks of the DVD market is the relatively new fascination with the process of making films. Before the "Making of" special feature on DVDs, the luckiest a person could get would be to watch the three-minute-behind-the-scenes segment on Entertainment Tonight. Now entire feature films are made about making a movie.
No other filmmaker on the planet deserves to have a feature made about him more than David Lynch. Watching his films is a special experience by itself, but seeing how he makes the film will be a joy beyond joys. The film was shot over two years while Lynch was making Inland Empire, and will hopefully bring insight into this Lynch quote:
"I've never worked on a project in this way before. I don't know exactly how this thing will finally unfold… This film is very different because I don't have a script. I write the thing scene by scene and much of it is shot and I don't have much of a clue where it will end. It's a risk, but I have this feeling that because all things are unified, this idea over here in that room will somehow relate to that idea over there in the pink room."
This film is in the running for most anticipated film showing at the fest.
This may be the perfect film to follow the David Lynch doc. An Iraqi film student gets the opportunity of a lifetime when Liev Schreiber offers him a production assistant's job on his film Everything is Illuminated, and subsequently finds out that the making of a film is more than just looking pretty in front of the camera.
Can this film be taken as a political statement, or simply a portrait of a confused youth? Lynch's themes of shifting identity come into play as director Nina Davenport slowly becomes a character of her own documentary. The final question of the film is: can we trust our eyes, or should we believe Davenport's slick editing?
This documentary shows how to make a documentary entertaining and enlightening. Audience of One is a story of Richard Gazowsky, a pastor who hadn't seen his first movie until he was forty years old, but due to a calling from God (The Ten Commandments as the burning bush), he is attempting to make the biggest faith-based sci-fi film of all time. As the film progresses, Gazowsky grows more ambitious, inflating his desired budget from fifty-million to two-hundred million by the end of the film.
This is a film with a future. The comedy comes from the moronic choices the participates make in the name of faith, but every laugh produced, these characters pride themselves on looking foolish for their faith. The timely film looks at what choices appear sensible when rational thinking leaves religion. The director will be present at the screening; I only wish I could say the same for the director of the unmade Gravity-The Shadow of Joseph.